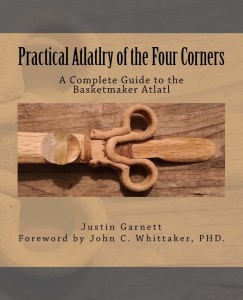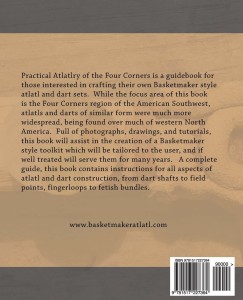 Hi everyone, Justin here.  After working on this project for what seems like forever, have recently released my first book, a guide book to constructing Basketmaker atlatls and darts.  This book is titled Practical Atlatlry of the Four Corners: A Complete Guide to the Basketmaker Atlatl and is intended to serve as  guidebook for  those who are interested in constructing their own equipment.  The language of the book is kept fairly non-technical, and while particular artifacts are addressed minimally, the book is more about the "practical" aspects of Basketmaker gear construction, rather than the intricacies of specific artifacts.
This book contains lots of black and white photos, line drawings, and is "officially" 132 pages in length, although a few blank pages are thrown in at the back for reader's notes.  Although the focus of the book is the Four Corners and Basketmaker gear, all the information can be applied to other styles as well.  The book contains general information about atlatls, tool kits for making atlatls, instructions for making 4 kinds of traditional Basketmaker fingerloops, making, attaching, and using atlatl weights, truncated vs conventional handles, making dart shafts, balancing darts, proper nock/spur mating, fletching darts, foreshafts, points and hafting, use and considerations.  The book wraps up with a troubleshooting section to diagnose common problems with atlatl and dart sets.
Here's the blurb from the back cover: Practical Atlatlry of the Four Corners is a guidebook for those interested in crafting their own Basketmaker style atlatl and dart sets. While the focus area of this book is the Four Corners region of the American Southwest, atlatls and darts of similar form were much more widespread, being found over much western North America. Full of  photographs, drawings, and tutorials, this book will assist in the creation of a Basketmaker style toolkit which will be tailored to the user, and if well treated will serve them for many years. A complete guide, this book contains instructions for all aspects of atlatl and dart construction, from dart shafts to field points, fingerloops to fetish bundles.
The book is currently available through Amazon.  It has a base price of $19.99 and  It can be purchased by clicking this hyperlink, or by simply entering "Practical atlatlry" or something similar into the search function on Amazon.  Again, thanks to everyone who has supported my work over the years.  If you purchase the book, I hope you enjoy it!  Let me know what you think by leaving feedback.  Best wishes for the new year,
-Justin